Part 2: 10 of my Favorite Self Care Activities
Hopefully, by now, you have began the journey to caring for yourself and tried one of the previous five activities. Below you will find a similar list. The activities are in no particular order, but they all work for me.
6)Scrapbooking
This is actually one of my favorites. Most people think that it is a hobby that older women do; however, I LOVE it. I discovered scrapbooking when I was in Graduate School. My 1st scrapbook was created as a going away gift for one of my best friends. She was moving back to LA and I wanted her to remember her time in the Bay. I bought a scrapbook album kit and started creating it. Even though it was rushed, I enjoyed making it. I was so proud ( even if it was not the best) and my friend LOVED it.
During Graduate School, we talked a lot about self-care. I started thinking more about what I could do that I would enjoy (I was definitely not working out). I love the store Michael's and would spend a lot of time in there. They often have sales on scrapbooking materials and so I started my collection. I purchased everything separately because I felt that the kits limited my creativity. On my free time, I would create scrapbooks to hold pictures of my most memorable experiences.
Scrapbooking was so relaxing to me that I actually began selling them on Etsy. During the holidays, I would get many orders because they are a meaningful gift. I truly appreciated the support and enjoyed taking the time to do it. You can check out some of my designs here. The only down fall of this hobby is that it is time consuming since I make the page borders, picture backgrounds, cut out designs, paint, letter, etc. If you do not have that much time, I would suggest focusing on just one page to hold a picture that is special to you. There are plenty of templates on Pinterest that you can replicate or you can just be inspired and make your own. You can also purchase a scrapbooking kit that has everything that way it is easier that purchasing everything separately.
7) Painting/ drawing
Painting is something that I enjoy but do not do very often. Every time I paint, I feel great and am often surprised at the end result. I use oil paint, acrylic, watercolors, oil pastels, water color pencils, sharpies, Tombow dual brush pens, micron pens and many more. All of these tools have been collected through the years. I use canvases, watercolor pads, drawing paper, my passion planner, amongst other things to get creative.
Watercolors are my favorite to use when I want to quickly paint something. I often find myself painting different parts of nature as it is very calming for me. During my anxiety-ridden nights, I would watercolor before going to bed to let go of some of that worry. Over the years, I began to paint my vision boards, decorated my passion planner, paint in pads, letter on scrapbooks and different mediums. All of these are often very personal to me so I do not share with many people, except close friends. I do not do it to show the world, I do it for myself. This is sacred time that I give to myself as self care.
I am sure you have heard the saying,"Art Heals". Many of the clients that I work with love creating something during our sessions, whether its with paints, watercolors, glitter, coloring pages, drawing, etc. Painting is very relaxing. There are different things that you can create that are fairly easy. Even if it is a quick creation of shapes or mixing colors, it can be relaxing. Watercolor palettes are only $5 at Michael's. If you have some money to spend, I suggest going to a paint and sip event where they guide you through the painting. There may also be some videos on youtube that may guide you. Some people find it frustrating; however, I encourage you to enjoy the process and not worry about the end result.
8) Yoga
I never thought this would be in my top 10 self care activities.
This is something that I recently started doing. The weather has been cold so I have not gone out to run but I know that my body needs to be active. Through one of my favorite podcast, I discovered Yoga with Adriene. I had tried yoga in the past but it was not for me. I gave the 30 day Yoga Journey a try and I LOVED it. I am not a morning person at all; however, I wake up early to get my yoga sessions in. I love the stretch that my body gets and I start my day feeling grounded and energized. The best part about this is that I can do it in the comfort of my own home. The fact that they are free makes this so much better. I take these 20-30 minutes to myself and use it as a self-care opportunity.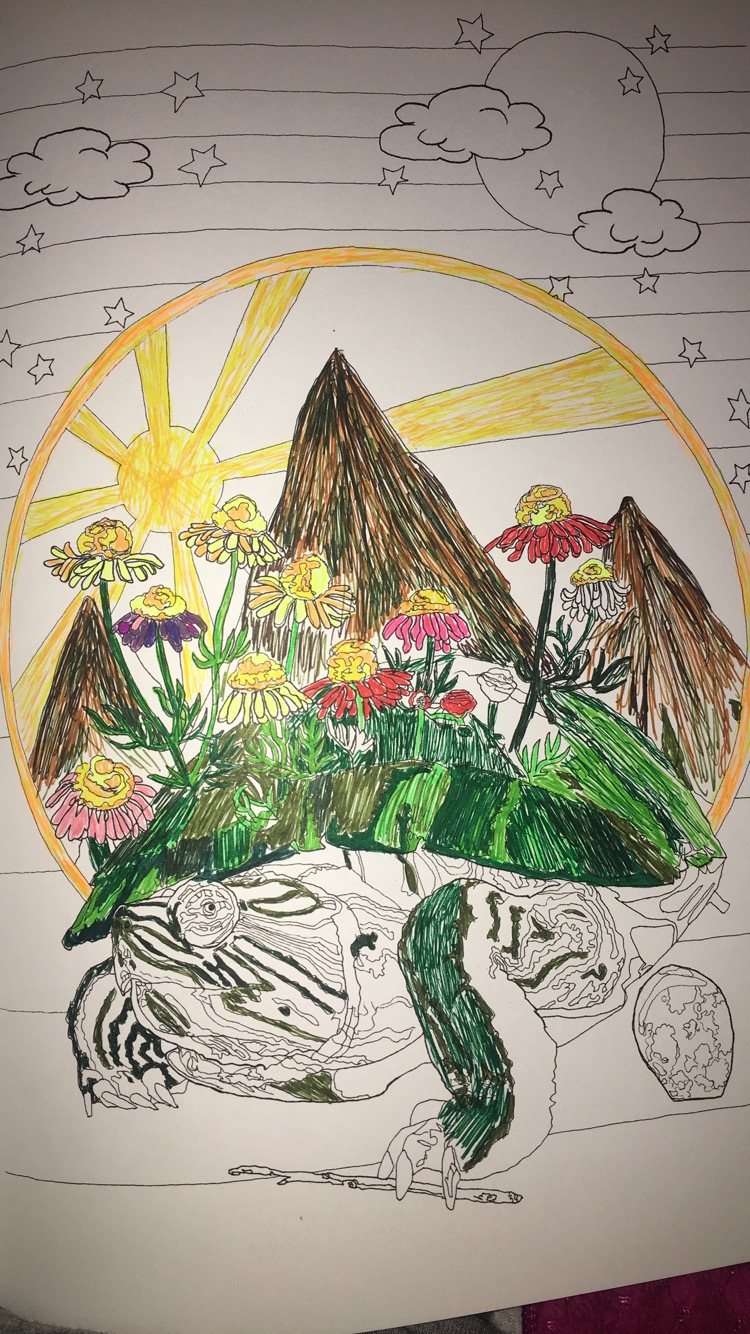 9) Adult Coloring Books
Adult coloring books are AMAZING! I love them so much that I give them away as gifts (yes, I am THAT person). These are a GREAT stress reliever. I have many of these and they have been helpful during tension filled days. There are a variety of books to choose from. They have specific ones for stress and anxiety, and others such as mandalas, bible verses, different characters, amongst other things. The best part is you can find them anywhere. Clouds in a Teacup: A Mindful Journey and Coloring Book is my favorite one and I keep it next to my bed.
You can use crayons, colored pencils, fine line markers, sharpies, etc. Stradler Color pens are my favorite and are what I used to color the image above. As you can see, the coloring does not have to be perfect, you just use it to decompress. I like to mix in the colors within the image or add in different aspects to the page. Every page looks different so do not get caught up in what it should look like. Like painting, enjoy the process of coloring and letting go.
10) Journaling
When I was in college, I had a lot going on. One night, I was over at my best friend's house and I was talking to her about what was going on in my life and how I felt that I did not know what to do. She suggested that I try writing about it so I did.This became a coping skill and a self-care activity. Throughout the years, journaling has helped me gain clarity and understanding. Taking time to let your thoughts flow and get to the center of your feelings, really allows you to get in touch with yourself. We often have so much going on that we may not take the time to check in with ourselves. This is the ultimate self-care activity since it allows you to release what you are holding, gain understanding and discover your inner strength.
You do not have to journal everyday. For example, I often do it if there is a lot on my mind or need some extra processing. I own so many journals that I do not think I have completed one. All I know is that I can look back at my past entries and know that I have overcome so much. Do yourself a favor and get a piece of paper and just let your thoughts go. You may be surprised at what comes out.
My hope is that some one in need of this is able to find comfort in one of these activities. Caring for yourself does not means spending tons of money on spa days. Self-care is as easy as any of these activities and can be done in your own home.
Make an effort to take care of yourself, even if it is just doing one of these activities for 5 minutes. It will make a huge difference in your well-being.